Every Music Genre Ever… EVER!
How would you describe your favorite kind of music?  Indie? Jazz? Country? Pop? Well, that's just amateur hour. There are so many different genres of music.  You've heard of some of them, but I dare you to even be able to name a quarter of the ones captured in this completely crazy, but incredible new web site.
I know I'm prone to use a lot of hyperbole when describing my new favorite things, but that's just me! I can't, though, say enough good things about this amazing new site called Every Noise at Once.  It is the coolest.  It is the most amazing collection of music research that I'm familiar with.  If you start playing around with it, you will feel like you've been sucked into a black hole and may never get out. Don't say I didn't warn you!
Here's how the site works. You open it up and you'll find a large word cloud filled with the names of different music genres. Just when you think you've scrolled up and down, left and right to see them all, you'll find something else that you've missed. There must be hundreds of them!  Some are immediately recognizable, but others sound more like the title of indie bands or really bad movies. For every Acoustic Pop there's a Technical Brutal Death Metal. When you click on the genre name, a song will begin to play to give you an idea of what that genre sounds like.  So, when you click on Glam Rock, you might hear Queen's "Bohemian Rhapsody." When you click on Hungarian Hip Hop, you might hear HOSOK cranking out "Nem Vagy Egyedul." I'm not just making this up!

Now, see the double arrow to the right of the genre?  Click that and the real magic of the site is revealed. That will take you to the genre-specific page where you'll find a word clouds of bands that fit into that genre. It's a great way to find new music that fits into some of your favorite music niches.
For example, after playing around, it's clear that one of my favorite genres is Shimmer Pop. I never would have guessed that. The name of the genre alone makes me want to run to the hills.  But, if you take a close look at the bands that are featured there, it reads like a who's who of my Spotify favorites.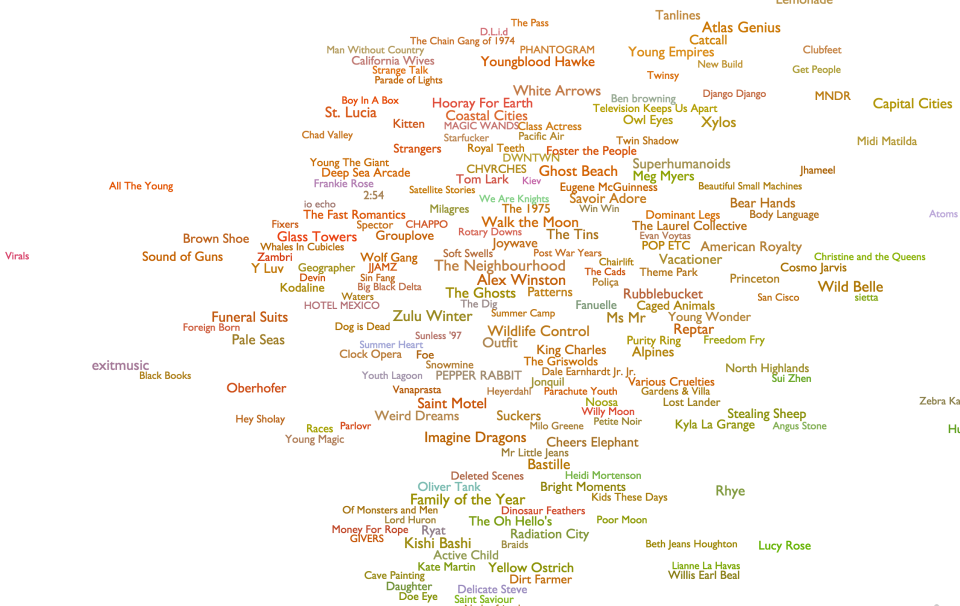 I might try to run, but that's me.  Shimmer Pop.  Damn.
You know I'm a fan of a good music research project, and this is a doozy. Go visit the site and get lost for awhile. You might find a great new band or your own embarrassing genre favorite. When you're done, come back here and let me know what you thought and where your tastes landed. I'd love to know that there was a fan of Central Asian Folk.
Bonus: Straight outta Budapest… here's HOSOK!