Building a Brighter Future for My Daughter – With Legos!
One night, about three years ago, my daughter and I were walking our dog.  We stopped on a bridge and were looking up at the moon.  She asked me how long it took to get there.  I told her after years and years of training, it only took about three days on a rocket.  After some thought, she looked at me and said, "Daddy, I want to go to the moon one day."  I said, "Of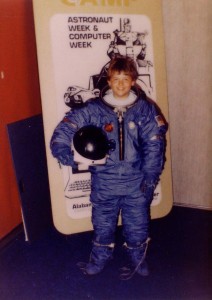 course! You can do anything you put your mind to!"
She quickly followed that amazing moment up with an even better one.  She grabbed my hand, looked up at me and said, "But only if you'll go with me!"  As a proud alumnus of Space Camp, I can't think of anyone more eager to comply.
I'm not sure that she'll continue to be interested in science.  I can, however, do more than hope that she will.  I can provide her with activities, good examples of women in science and show her many possible paths.
The good news is that there are a lot of good examples out there.  One of them, Alatariel Elensar, just got her concept for three women in science minifigures picked up by LEGO:
Although recently LEGO® has started to design and add more female figures to their sets, they are still a minority. A small set of minifigures would provide a great opportunity to add women to our LEGO® town or city communities. I have designed some professional female minifigures that also show that girls can become anything they want, including a paleontologist or an astronomer. Being a geochemist myself the geologist and chemist figures are based on me:-)
These aren't the pink, frilly Legos that my daughter has been told are appropriate for girls.  These are standard sets that should appeal to anyone interested in science.  See the announcement video below.
Thank you, Alatariel for pushing this effort forward.  Thank you to LEGO for seeing the wisdom in over 10,000 people voting this project forward.  Sets that were competing against this one includes themes from Sherlock, Back to the Future and Adventure Time.
The sets could be available as early as August of 2014.  When they are, I'll be in line with mine hers.